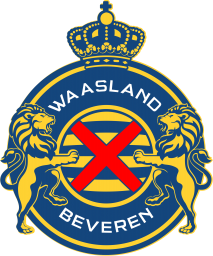 Matricule 04068
Koninklijke Voetbalclub Red Star Waasland-Sportkring Beveren
Sinds 1936
Do you support the Waasland-Beveren club and want to improve its presentation on Webfoot?
There are no small clubs and Waasland-Beveren, like others, deserves credit at Webfoot, the first encyclopedia of Belgian and foreign football.
Don't hesitate to become Webfoot correspondent and share your passion for Waasland-Beveren, a club that follows you week after week.
Thank you for your commitment!
The Webfoot team
Teams
the Stadium
Freethielstadion
Stadionplein 1, 9120 Beveren, Belgium
Type of field : Pelouse
Capacity : 8235
Last news