This news is brought to you by Webfoot.be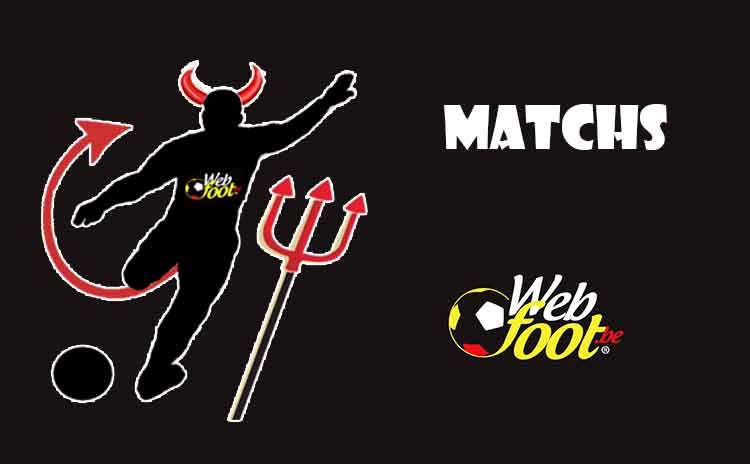 Calendar of the next ten matches of the Belgian National Football Team
The next 10 dates and times of the matches of the Belgian team
Below, you will find the details of the Red Devils program/strong> for the next ten international meetings. With the Euro UEFA, the qualifiers for the 2022 World Cup FIFA and the friendly matches, the troops of Roberto Martínez will be in great demand. One observation: to the delight of Belgian supporters, the calendar is very busy.
Live broadcast on La Une
A large part of the matches such as the Belgium - Wales will be live on the internet on La Une (RTBF) from 8:20 p.m. on Wednesday March 24, 2021 will be broadcast on RTBF's sports propaganda channel, La Une. Consult the sports channel's agenda for the full 2020 - 2021 calendar.
First match towards the 2022 World Cup
Belgium Wales in Europe Zone qualifying
The Belgian devils set out to conquer the World Cup 2022. First obstacle for Belgium during the WC FIFA Zone Europe qualifiers, this Wednesday March 24, 2021 at 8.45 p.m., Wales, one of the national teams that the coach knows best.
Group E Belgium
Among the four opponents who make up the Group E, the red devils, group or the Belgians with the FIFA number position, are obviously ultra favorites, only the Belarus, is a novelty. The other three countries; the dragons of Wales, the < a title = "follow the Czech Republic live" href = "/en/catalog/1445-reprezentace/">Czech Republic and the Estonia are very regularly played in the qualifiers for the world football or the Euro.
FIFA Ranking 2021 Group E
Here are the positions of the teams during the last FIFA ranking, of February 18, 2021. Observation: 17 places separate the highest ranked competitor from the Belgian players, while 107 places separate the Belgian football team with the little one pushed from this group, Estonia.
Belgium, number 1 FIFA
Wales 18th.
The Czechs 42nd.
Belarus 88th.
The Estonians 108th.
Upcoming 9 international matches
Belgium Red Devils Wales The Dragons 24 March 2021 - 8.45 p.m. FIFA World Cup
Czech Republic Reprezentace Belgium Red Devils March 27, 2021 - 8:45 pm FIFA World Cup
Belgium Red Devils Belarus Sbornaya March 30, 2021 - 8.45 p.m. FIFA World Cup
Belgium Red Devils Croatia Vatreni June 6, 2021 - 8:45 pm International Friendlies
Belgium Red Devils Russia Sbornaja komanda June 12, 2021 - 9:00 p.m. EURO
Denmark Danish Dynamite Belgium Red Devils June 17, 2021 - 6:00 p.m. EURO
Finland Huuhkajat Belgium Red Devils June 21, 2021 - 9:00 p.m. EURO
Estonia Sinisärgid Belgium Red Devils September 2, 2021 - 8.45 p.m. FIFA World Cup
Belgium Red Devils Czech Republic Reprezentace September 5, 2021 - 8:45 p.m. FIFA World Cup
Belarus Sbornaya Belgium Red Devils September 8, 2021 - 8:45 pm FIFA World Cup